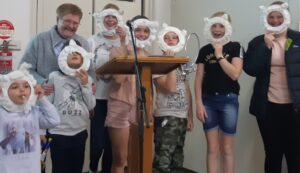 Our 11:15 am Sunday service is a contemporary, all age family-friendly  church gathering which includes preschool and school aged children in the first part of the service. There is a childrens' talk and song before the children move out for our Sunday kids' programme.
We love and value kids at Cootamundra Anglican and they are an important part of our church family. So we try to include them in all parts of our life together, as well as making sure that church is a safe place for them to be. Our leaders all have a current Working with Children Check and have completed Safe Ministry Training.
At our church service we have the opportunity to hear from God's word, the Bible, and to respond by trusting him, seeking the forgiveness he promises, and praising him together.
We celebrate the Lord's Supper together on the fourth Sunday of each month and have a  Bar B Q the first Sunday of the month. 
A range of people are involved in leading and contributing during the service.
Why not come and join us? Visitors and newcomers are always welcome.